kurz vor Einödhausen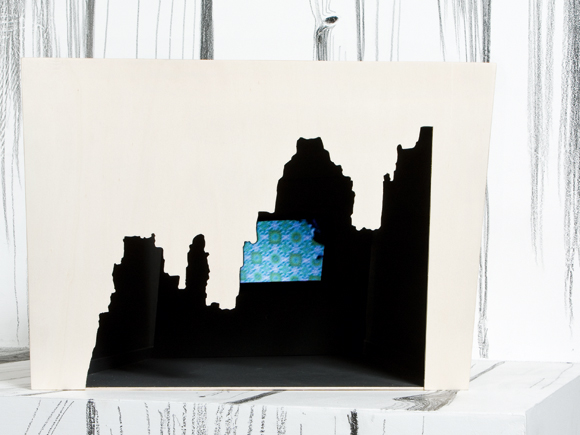 Einige Wochen vor der Abfahrt nach Einödhausen. In der Skulptur läuft ein Video, welches das Innere des Hauses einer Vorfahrin zeigt, kurz bevor es leergeräumt wurde. Eine Hausbesichtigung vom Dachboden über den ersten Stock und Erdgeschoss bis zum Keller. Als Loop. Sie hat natürlich rein räumlich kurz vor Einödhausen gewohnt.

Installation, 2011
Wanddispersionsfarbe, Graphit, Sperrholz,
Digitaler Bilderrahmen, Festplatte, Video
Maße variabel

A few weeks before departing for Einödhausen. Inside the sculpture a video shows the interior of the house of an ancestor of mine just before it was cleared out. A film loop showing a tour of the house from the attic to the first floor, ground floor and cellar. Geographically speaking she actually lived just outside Einödhausen

Installation, 2011
Emulsion paint, graphite, plywood,
digital frame, hard disk, video
Size adjustable
.