All the lonely birdies, where do they all come from?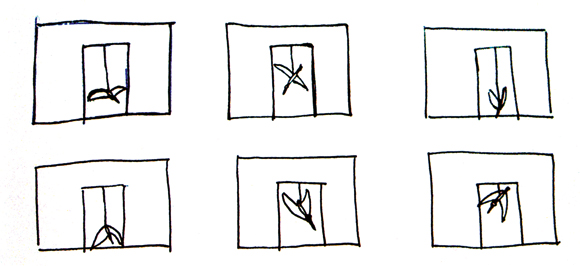 Eine kleine Geschichte: Eines Tages brachte der Typ vom Sägewerk — wohnhaft in dem Dorf in England, aus dem Darwin stammt — uns einen toten Fasan vorbei. Er erklärte uns, man müsse den Vogel nur noch abhängen, also irgendwo frei hängen lassen wochenlang. Fertig zum Essen sei das Fleisch, wenn der Vogel dann runterfalle vom Seil. Wir waren alle Vegetarier und hängten ihn brav in die Terrassentür.

Zeichnung, 2005
Fineliner und Kugelschreiber auf Papier
18 × 7,5 cm

A little story: One day the man from the sawmill— living in the same village in England that Darwin came from — brought us a dead pheasant. He explained the bird needed to be hung before eating — simply hung up somewhere for weeks. The meat was ready for eating when the bird fell from the string hanging it up. All vegetarians, we dutifully hung up the bird in the patio doorway.

Drawing, 2005
Fineliner and ball-point pen on paper
7.1 × 3 in.